Center Parcs
Center Parcs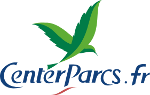 Want real relaxation away from your stressful everyday life? Center Parcs is for you!
Located in the heart of the most beautiful forest areas, a comfortable and spacious cottage awaits you for a holiday with family or friends in a unique setting of greenery and lakes.
Program your stay, homecoming activities and recreation.
Summer and winter you can enjoy the Aqua Mundo, an amazing underwater world where the slides, wave pools and whirlpools welcome you all year in water at 29 ° C.
Biking or horseback riding, racket sports, archery, bowling, paintball, diving ... One thing is certain, you will not have time to get bored during your stay at Center Parcs.
To relax, you can count on your friendly and functional cottage designed to make you feel immediately at home in the heart of the forest. The different categories Comfort, Premium or VIP you will enjoy extra services such as a whirlpool, sauna or steam room in your home.
Carte des établissements : Center Parcs
Show by region